The 2018 Board of Directors
Board meetings are open to the public and are held the first Tuesday of each month at 6:30pm at 640 Main St. in Lafayette, IN
President: Stacy Gipson                                                                                                                                                                                                             
Stacy Gipson is a central Indiana native currently living in West Lafayette with her wife, Becky, and preschool aged son, Fox. She also has an older son who is currently attending Ball State University. Stacy has always had a heart and passion for advocacy, from LGBT issues to working in and volunteering with domestic violence programs. Stacy has also been a dog trainer for over 15 years and has been involved with the community through programs at Civic Theatre and Congress Stress UMC. Stacy has been associated with PRIDE Lafayette for over 10 years and in 2017 was the committee chair of OUTfest! Through working on OUTfest she saw the need for change and for Pride Lafayette to move into a new age. She quickly got more heavily involved and began figuring out where she would be able to do the most good in our community. Stacy is now the 2018 Board President and is looking forward to serving the PRIDE Lafayette and the local LGBT+ community.
Vice President: Belinda Bernard
Belinda is a Lafayette Native and proud mother of two daughters and a passionate Recovery Advocate. This is currently her fourth year volunteering with Pride. She has previously served as a General Board member for Pride in 2017 and has been a leader of the Recovery Meetings held at our center (AA & NA). She is also a domestic violence WARRIOR/survivor/advocate and is professionally trained in conflict resolution, holistic family support, healthcare advocacy, and holds an AAS in Criminal Justice w/ a minor in Youth Services. Her hobbies include reading, playing cards, swimming, darts, walking, biking, and dancing.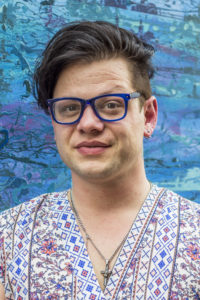 Treasurer: Jesse Knoth
Native to Indiana, Jesse continues to be unstoppable. He started his journey 16 years ago when he decided that he wanted to be a hair stylist and salon owner. His love and passion for doing hair has paved a pathway for him to success. As Jesse continues to embark on his journey, he also continues to make his mark on the community. Winning various awards for his volunteering and public achievements. Jesse also believes that family is very important. He too comes from large one himself. He and his partner of 8 years, are soon to tie the knot. Together, they will continue to raise their teenage son and their fur babies.
General Board Member: Becky Gipson
Becky was born and raised in the Southwest Suburbs of Chicago. Here she was the founder and president of her high school GSA. She has always had a heart for helping and making sure others knew they weren't alone. While living in Normal, Illinois near Illinois State University she also was involved in their PRIDE group along with her older sister, Michelle who was the treasurer of the group. Becky moved to Lafayette in January 2013. Since then she has married her wife Stacy Gipson and they are raising their son, Fox, in West Lafayette. She also works tirelessly caring for their own mini zoo of 8 cats and 3 dogs. Becky has a big heart and loves the community that PRIDE Lafayette has brought her and her family.
General Board Member: Lance Harrington
Lance was born and raised in Lafayette, Indiana, graduating from Lafayette Jefferson High School and attending Purdue University. He moved to Indianapolis for several years, trying to find more people "like me" and having the feeling that he was missing something by living in the "small town" of Lafayette. After several years, that something found Lance, his husband Jesse and his son, Larken. They realized Indianapolis did not have anything more to offer and that Lafayette was where they wanted to be, so they moved back to Lance's hometown. We now live just outside town in rural Clinton County.Lance is employed with The Purdue Research Foundation, and his husband is a small business owner in Lafayette.
From Lance: Growing up here, the Pride Center and other outlets did not exist as I struggled to come to terms with my own sexual orientation as a teen and young adult 20 – 30 years ago. Because of that, I felt it my obligation to become more active in the community. So, Jesse and I both came onto the Board of Directors for Pride Lafayette in January 2018 after attending and participating in many of the past OUTFest events, hoping to grow the center and expand its mission. It is my goal to continue the mission of Pride Lafayette, by reaching out to all members of the community to educate, inform and help those in need. I hope that my work with the center will touch lives, so those struggling, as I did, find a place that listens, understands and makes them feel welcome and comfortable. Something that did not exist when I was younger.
Secretary: Vacacancy
Some of the kids of PRIDE: 
Fox:  Pride is important to me because I get to be with other families that look like mine and have a place to go play games with my Moms and friends.
Corrienah: I like Pride because it makes me feel good to be there. I like the family that Pride is to me & my friends.