The 2019 Board of Directors
Board meetings are open to the public and are held the first Tuesday of each month at 6:30pm at 640 Main St. in Lafayette, IN
President: Ashley
I have been a long time resident of Lafayette, McCutcheon High School graduate, and spent some time, at Ivy Tech. I was removed from the Army under don't ask don't tell. I have been involved with Pride Lafayette for many years. I was one of the founding members of OUTfest and in 2011, became the first female President of Pride Lafayette. I took some time off bought a home and met Jenny. We were married on our 3 Year Anniversary in 2018. I spend my time working at a small business in town, hanging out with my wife and 2 dogs, spending time with friends and donating my time to Pride Lafayette and Volunteering throughout the community.
"Making a difference in one person's life is still an impact on that one person's whole world." -Ashley 
"There may be times when we are powerless to prevent injustice, but there must never be a time when we fail to protest." -Elie Wiesel
I grew up on the south side of Lafayette. I graduated from Lafayette Jefferson High School and soon after moved to San Diego, CA where I attended Mira Costa College. I worked as a cook, in sales at Homes.com and eventually found a home at Starbucks Coffee Company where I worked for over 10 yrs.
I returned to Lafayette in 2004 having the need of support of my family due to a health crisis. I weighed 656 lbs at my heaviest and I nearly lost my life as a result of my obesity. I was given a second chance on life that many never get and I made a conscious decision to make it count.
I had an ah ha moment with this experience. It led me on journey towards self-realization of not only my identity but also how I wanted to live my life and what my purpose is while living it. In 2014, I began to transition socially from a lesbian woman to heterosexual male. I began this transition at the simultaneously with embarking on a new career path. I attended Ivy Tech Community College where I studied Human Services. My inspiration for pursuing a career in social services was directly connected to my experience.
I have plans on finishing my bachelors in public policy and programs. I feel that social work is only as effective as the type policies and programs that are in place to utilize in helping people. From my experience of living on a meager SSDI and having to use social services myself, I was able to see flaws in our systems. I know first hand what it is like to live in poverty. I know first hand what is like to be a patient in the Medicare and Medicaid system. I know first hand the challenges that the transgender or gender nonconforming community face with discrimination within these systems.
My experience led me to Pride Lafayette where I hope to take these experiences and be able to use them to help our LGBTQ community. That is why I have chosen to give my time to Pride Lafayette. I want to help make change so that our lives are better in our society.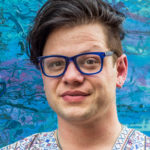 Treasurer: Jesse
Native to Indiana, Jesse continues to be unstoppable. He started his journey 16 years ago when he decided that he wanted to be a hair stylist and salon owner. His love and passion for doing hair has paved a pathway for him to success. As Jesse continues to embark on his journey, he also continues to make his mark on the community. Winning various awards for his volunteering and public achievements. Jesse also believes that family is very important. He too comes from large one himself. He and his partner of 8 years,  tied the knot in 2018. Together, they will continue to raise their teenage son and their fur babies.
Secretary: Jenny
I have lived in Lafayette my entire life. I am an alumni of Jefferson High School and a 2 time alumni of Purdue University with a Bachelor's of Science in Psychology and a Master's of Science in Education. I am a school counselor and reside in Lafayette with my incredible wife,  and 2 furkids. I am involved in Pride Lafayette because I not only care about giving back to my community, but also because I care about the future of my community and future generations growing up in this community. There is no other critical time than the here and now. Therefore, it is important to advocate and make change in order for all of us to live in an inclusive community, but more importantly for the future generations of lgbtq+ youth to not hesitate expressing their individuality
General Board Member: John
I was born and raised in Lafayette. After graduating form Ball State I returned home to begin my career
with The Area Plan Commission of Tippecanoe County. I joined the Board in the summer of
2018 but have volunteered in the past for The Pride Community Center. I have also been involved with
historic preservation locally as Past President of The Wabash Valley for Historic Preservation and
current President of the Lafayette Historic Preservation Commission.
Bio to come
I am originally from Frankfort, Indiana. I lived in New Jersey for several years and returned to Lafayette in 2016. I am a graduate of Hobesound Bible College, with my degree in biblical studies. I have the best roommates my 2 dogs and 2 cats.I have traveled to Uganda and South America for humanitarian projects, I am passionate Ally to the LGBT community and enjoy Volunteering, which has lead me to Pride Lafayette. I truly believe in giving back to the community to make it a better place to live.